Today I am linking up with "Meet Me On Monday" it's my first time on this new linky it looks like a lot of fun and a great way to meet everyone! Click on the picture below to meet more great people. Then hop over to Bluebird Notes for Blue Monday and look at some pretty blue.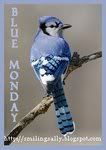 1. If you had to eat only one food for the rest of your life, what would it be?
Right now my answer is onion rings because I am craving them so much. They have to be hand dipped in a light batter and NOT greasy. Don't these look yummy!?! Now I say right now because this question for me was far from fair. I love food and food of all kinds. I am Celiac so I am very limited and these beauties are on the no no list, but, as long as we are playing I will ask for them.... One order of giant onion rings please!
2. Do you write your blog posts in advance or the day you post them?
Always at the time I post. When I decide to get on the computer and go to my blog. I either know what linky I am going to join on so I have an idea. Or if it one like this where there are questions it usually simple.... answer the question. =0)
3. Have you ever ridden in an ambulance?
Yes, I went with my Grandma once, she had been found unresponsive.
She was treated and checked out and after a few days sent home and did well. I also road with my daughter to one of her many hospital stays. We were at the mall when she became violently ill and incoherent. She spent a week in and is fine. Very odd in a way that I have never been in one for myself, considering all my health issues and 'almost not making it episodes' I have spent months in the hospital but I guess I get there on time.
4. What is your favorite candle scent?
This is my favorite!!! looooove iiiiiit! (in high pitch singy voice) If not that I always go for
Cinnamon Apple or some kind of Clean Linen
5. Coffee or tea?
As a true Texan I love sweet tea!
I do like some flavor tea's too hot or cold but not very often at all. It would have to be very cold outside and I have a craving for it. Usually when I don't feel very well. I drink coffee at home a few times a week, but my big treat is a Mocha Frap from Starbucks!! Oh, don't try and fool me with Dunkin Donuts or McDonald it's not the same.
And one more thing about me, I hope you have a great week!